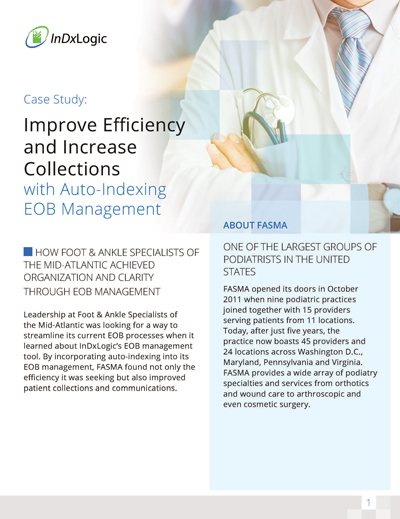 Foot & Ankle Specialists of the Mid-Atlantic is a fast-moving podiatric practice headquartered in Maryland.  Leadership at FASMA was looking for a way to streamline its current EOB processes when it learned about InDxLogic 's EOB Management. By automating the indexing of its EOBs, FASMA found not only the efficiency it was seeking but also revenue growth through improved patient collections.
To learn how InDxLogic's EOB management tool is different and could help your practice, download our use case.
To learn more about the benefits and advantages of InDxLogic, click 'Download The Case Study.'
Did you like what you read? We'd love to talk with you about how InDxLogic can improve your office efficiencies. Fill out the contact form so that we can get started.