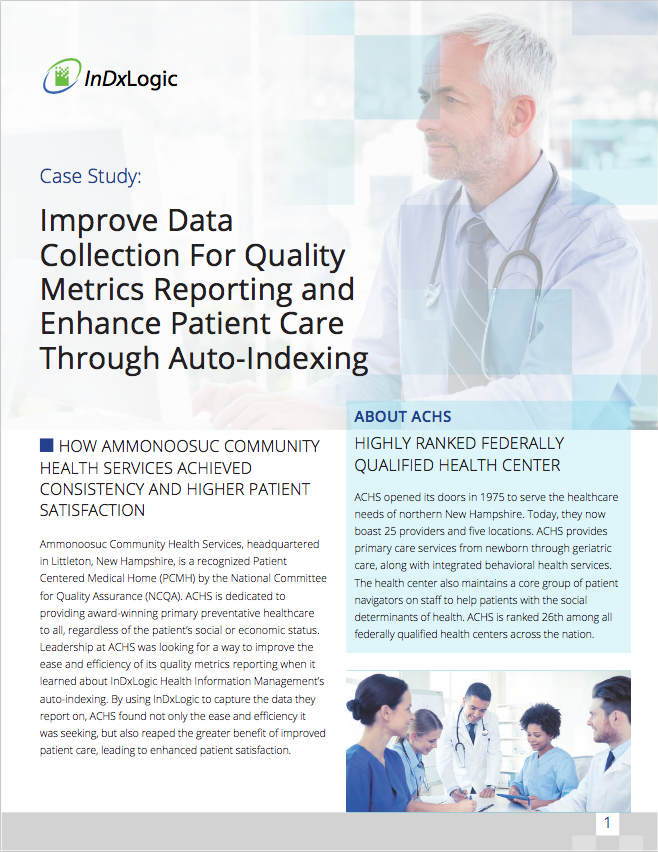 Ammonoosuc Community Health Services, headquartered in Littleton, New Hampshire, is a recognized Patient Centered Medical Home (PCMH) by the National Committee for Quality Assurance (NCQA). ACHS is dedicated to providing award-winning primary preventative healthcare to all, regardless of the patient's social or economic status. Leadership at ACHS was looking for a way to improve the ease and efficiency of its quality metrics reporting when it learned about InDxLogic Health Information Management's auto-indexing. By using InDxLogic to capture the data they report on, ACHS found not only the ease and efficiency it was seeking, but also reaped the greater benefit of improved patient care, leading to enhanced patient satisfaction.
To learn more about the benefits and advantages of InDxLogic, click 'Download The Case Study.'
Did you like what you read? We'd love to talk with you about how InDxLogic can improve your office efficiencies. Fill out the contact form so that we can get started.