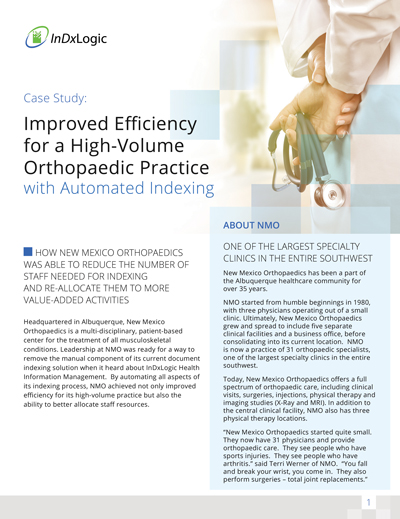 Headquartered in Albuquerque, New Mexico Orthopedics is a multi-disciplinary, patient-based center for the treatment of all musculoskeletal conditions.  Leadership at NMO was ready to remove the manual component from its document indexing solution when it heard about InDxLogic.  Through automation of its indexing process, NMO achieved not only improved efficiency for its high-volume practice but also the ability to re-allocate staff to more value-added activities.
To learn more about the benefits and advantages of InDxLogic, click 'Download The Case Study.'
Did you like what you read? We'd love to talk with you about how InDxLogic can improve your office efficiencies. Fill out the contact form so that we can get started.